Our first trip of the semester was to Bartelle Darby where we saw a variety of things including wetland plants, invasive plants, plant and animal interactions, and many more things.
I was assigned two plants/animal interactions and decided to shed some light on the Prickly Ash and Wood Poppy plants.
Prickly Ash (Zanthoxylum Americanum)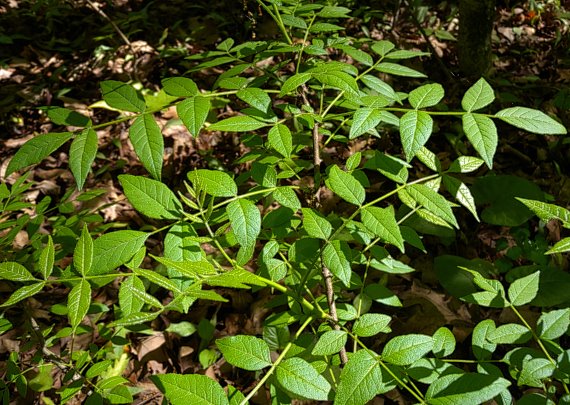 It is a small tree native to central and eastern portions of the United States and Canada. It can grow up to 33 feet tall and it's oil extracts are used in traditional medicine for it's anti-fungal properties. This tree interacts with butterflies as they use it for one of it's food sources.
Wood Poppy (Stylophorum diphyllum) 
Native to North America, the Wood Poppy plant is often found in eastern United States in moist forest areas. It grows to be about 1 and a half feet tall and their flowers are often used for herbal medicine. Ants interact with Wood Poppy's by spreading it's seeds and they benefit from the seeds nutritious oil body.
1. The geology of Ohio is divided neatly into two parts, eastern and western. The western part is underlain by limestone which eroded millions of years ago, causing the western part of Ohio to be worn down to a flat landscape. Eastern Ohio is underlain by sandstone which is a resistant rock, erosion of the rock takes place due to the natural cement holding the grains together by water that seeps through the sandstone. Although the process is happening very slowly, most of the erosion has only affected the carving deep valleys but not the higher landscape. It's helped form the stand-alone hills.
2. The original sequence of sedimentary rock strata was a horizontal sequence of sedimentary rock strata made of limestone, then sandstone followed by shale. Most of the erosion took place due to the  preglacial stream from the Teays river that was around for millions of years. It slowly eroded the area until the glaciers of the Ice Age came to  form.
3. The feature of the landscape that slowed the glaciers and caused there to be a glacial boundary cutting across OH were the sandstone barriers found on the Eastern part of Ohio. In the western part of Ohio, it was much easier for the glaciers to move freely through all the limestone.
4. Glacial till is the sediment that gets deposited by glaciers, it's often composed of clay, sand and slit. The glacial till in Western Ohio is composed of lime and clay and that of Eastern Ohio is much more lower in lime and clay but instead mostly has sandstone.
5. The basic substrate for plants in Western and Eastern Ohio are very distinguishable. The substrate in the Western part consist of clay and lime and has impermeable soil. It is also poorly aerated with a poor drainage system. The level of oxygen available during wet period is low as well. Compared to the Eastern part of Ohio which has sandstone that is permeable as well as it's drained and aerated. The soil in the area is acidic and and low in nutrients.
6. 5 species of trees/shrubs that have a distribution generally limited to limestone or limey substrates are:
Redbud
Red cedar
Hackberry
Hawthorn
Blue ash
7. 5 species of trees/shrubs that have a distribution generally limited to high-lime, clay-rich substrates developed in the thick glacial till of Western Ohio are:
Sugar maple
White ash
Red oak
White oak
Shagback hickory
8. 5 species of trees/shrubs that have a distribution generally limited to sandstone hill of Eastern Ohio are:
Hemlock
Sourwood
Pitch Pine
Scrub Pine
Chestnut Oak
9. The major determinant of the distribution for the sweet buckeye is it does not grow within the glacial boundary and has problems with repopulating. Hemlock on the other hand is found in unglaciated areas like eastern Ohio, in the more moist areas. Rhododendron is occurs in regions that are unglaciated, like near the Teays river which helped with it's migration and spread.